The upcoming iPadOS 15.4 update will help many iPad models get a pretty nifty feature currently only available on the iPad mini 6.
When Apple released the iPad mini 6 last September, the product included a nifty feature, that the buttons on the tablet change their function depending on the orientation the device is being used in. Similar capabilities will come to other iPad models via iPadOS 15.4. This will allow the volume buttons on some iPad models to change depending on whether the tablet is being held in portrait or landscape mode. Information about the upcoming change was given by Twitter user Matt Birchler.
iPad mini 6 has the feature to change the function of buttons depending on the position of the camera.
Accordingly, a newly discovered feature called Fixed Position Volume Control, allows users to turn on if they want the volume buttons to remain in the same position regardless of the iPad's orientation. In other words, if they don't want the iPad volume buttons to change depending on how the user holds the iPad, they can toggle this switch.
To access the toggle button, with an iPad running iPadOS 15.4, go to Settings > Sounds > Toggle off Fixed Position Volume Controls. When this button is disabled, the volume up button (+) will be on the right or top regardless of how the user is holding the iPad. And the volume down (-) button will remain on the left or bottom regardless of whether the iPad is held in landscape or portrait mode.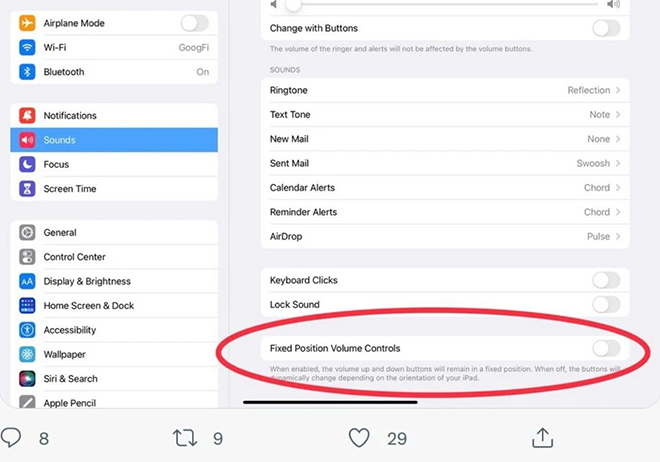 By default, the switch is on, keeping the volume buttons in a fixed position. While the feature hasn't appeared in the iOS 15.4 beta yet, it has appeared on some iPad Pro and iPad Air devices with iPadOS 15.4. Apple released the RC version of iPadOS 15.4 last week with the final version expected to be released on March 18 - when Apple also released the new Green iPhone 13 and iPhone 13 Pro models. , as well as the iPhone SE 2022.