When talking about artificial intelligence, do you think it helps your life more or is it "happy" to take your place?
Why is ChatGPT so interested in the community? From what seemed to be just a tool, to today, through many sources of evaluation information both at home and abroad, ChatGPT has more or less brought to the community a bit of an idea - temporarily called "threativity". ". More specifically, there are many sharing that the potential of this tool is not merely to occupy the "search throne" of Google, to become a sophisticated artificial language machine, but also to become a sophisticated artificial language machine. is on the verge of becoming an alternative to many basic occupations, causing panic and unemployment for a part of the world's workers.
That being said, the journey for this story to take shape, this fear to be real, is still unpredictable. The only thing that we can recognize at the present time about the presence of AI is that its contributions have been creating many benefits in improving the quality of life. You may not notice this change, but true artificial intelligence has been applied to many popular home appliances today.
Drying is faster, fabrics are better protected thanks to the ability to recognize the material and recommend the appropriate cleaning process; the TV can recognize the voice and respond to the movie channel you're looking for; or like a key on the phone screen can completely disable the active device ecosystem in the house..etc. these features are decided by an AI genius artificial brain, nobody enters here all! But have you ever felt resentful about this convenience? Of course not!
If you told this story about 10 years ago, you would probably find it strange, but at the present time, the presence of AI-integrated home appliances has become too familiar. One of the home electronics brands that do a good job of taking advantage of AI to make life easier is LG. Recently, LG has successfully attracted the attention of users with LG WashTower™ laundry products with neat design, intelligent AI application. The product integrates TurboWash™ 360 technology and AI DD™ direct drive system capable of providing the necessary amount of water for the laundry load, optimally using the amount of detergent, helping the pants clothes are washed faster, cleaner and most importantly, the fabric is better protected.
Thanks to AI DD™, the machine can make optimal recommendations depending on the fabric properties to complete the washing and drying process, eliminating bacteria without harming the fibers.
It would be remiss to mention AI-integrated devices in living spaces without mentioning entertainment devices. Also one of the leading brands in this category, for nearly a decade, LG has been the first name considered by users when they have a need to choose or replace smart entertainment devices for their devices. family. Voice control is one of the interesting features on LG TVs, loved by users for its convenience. With this feature, users can experience the ability to control the device quickly through voice, simply by holding down the microphone button on the remote and giving commands, the TV will immediately respond to the search request. content that the user wants.
Recently, LG has also announced information about new AI-integrated TVs that will be released in 2023, promising to bring a more immersive and advanced picture and sound experience than their predecessors. LG applies the latest Alpha series processors that use AI-powered Deep Learning technology to deliver superior picture and sound quality. AI Picture Pro improves picture clarity, and with the help of OLED Dynamic Tone Mapping Pro, the TV can reveal hidden details and bring greater depth to every frame. LG also developed the HDR Expression Enhancer feature as an image processing technology that relies on deep learning of artificial intelligence to detect and refine image objects on the screen, creating Vivid sharpness in 3D space.
AI is applied on LG TV series promised to launch in 2023, bringing a more vivid and advanced picture and sound experience than its predecessors.
OLED TVs with new technology will soon be launched in the Vietnamese market.
Referring to the advancement of LG smart devices, it would be a pity not to mention the LG ThinQ application that has been quite familiar to consumers over the years. The exclusive ThinQ app makes it easier for users to control the ecosystem of LG home appliances, as well as save time in diagnosing warranty-related issues and repairing devices. . In addition, in order to create specialization according to each user's behavior, at CES 2023, LG launched a new line of high-end personalization products LG ThinQ UP (refrigerator, washing machine, dryer & Kitchen equipment). LG ThinQ UP can continuously update new features throughout the product life cycle, bringing more value to users thanks to intelligent AI.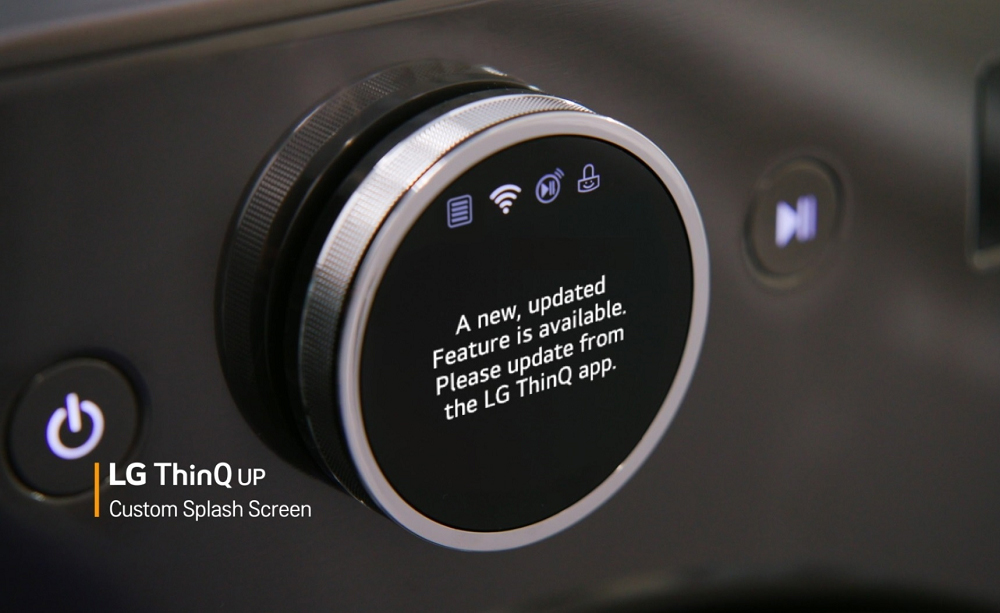 LG users do not need to pay extra cost to purchase any gadgets during the usage period.
Stay tuned and update more smart LG product lines with AI in the near future to choose the right device, upgrade family life more comfortable, more convenient every day!